Automotive electronics remanufacturing is the practice of extending the lifespan of existing auto electronics, thereby allowing auto manufacturers to capitalize on their initial product investments as opposed to investing in manufacturing replacement product. According to the Auto Parts Remanufacturers Association, auto electronics remanufacturing became relevant in the late 1930s at the start of WWII, when a high demand for raw materials to support the war effort put a halt on manufacturing anything outside of weapons, plane parts, and other urgent machinery. Since materials were so scarce, remanufacturing was the only solution to meeting consumer demands on the homefront for damaged auto parts.
Following the war efforts, remanufacturing associations, such as APRA, were created to bring awareness to the public and legislature of the benefits of remanufacturing. Not only was it significantly more cost efficient, the benefits to the environment helped to reinforce the push towards remanufacturing, as it significantly reduced the amount of electronics ending up in landfills. Since then, auto electronics remanufacturing took hold across the automotive industry.
The Process of Remanufacturing
The process of remanufacturing is so much more than simply repairing a unit. As an Automotive OEM Remanufacturing Service Center, AER's entire remanufacturing process generally consists of seven steps to ensure a high quality product and end-user satisfaction. Those seven steps include receiving, diagnostics, repair, final test, inventory, programming, and finally, shipping.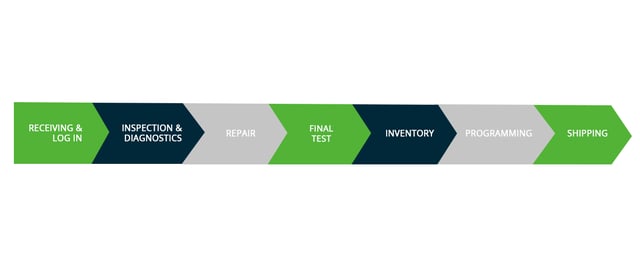 Of course, each step can be tailored to meet client needs. From receiving the unit, to ensuring the unit is correctly logged into our system, the first step to our process sets up each unit's journey through the remanufacturing process. Once a unit is transferred to the correct production line for diagnostics, it is given a visual inspection, along with an extensive functional test. After a diagnosis is determined, the unit will travel down the production line to an IPC J-STD-001 Certified Technician to perform functional and preventative repairs as applicable.
A technician's final steps include clearing any dirt, debris, or excess flux from the unit, and reassembling the housing. The product is given a final test using AER's smart sequence diagnostics, a process that eliminates the element of human error, to ensure functionality. If the unit checks off, it travels to inventory, where a "finished goods" report is generated and forwarded to the client. Based on client specifications, the units are either shipped, or stocked accordingly. If an order is placed from an item in our warehouse, the unit is pulled from inventory, and sent to programming where any special software or mileage is programmed and downloaded onto the unit. Finally, the unit is dispatched to the shipping department, where it is packed with care, and shipped to the end-user.
Certified Technicians and Knowledgeable Staff at Every Level
An important characteristic of an OEM Remanufacturing Service Center requires knowledge and professionalism at every level. All of our technicians maintain IPC certifications on the best practices of hand soldering to implement during the reman process. To ensure our technicians stay up-to-date, AER has an in-house technical trainer dedicated to keeping staff on top of their game. AER also maintains ISO 9001:2015 certifications in compliance with the internationally recognized ISO Quality Management System, along with the ISO 14001 Environmental Management System.
Certifications aside, an OEM remanufacturing service center requires integrity and product handling knowledge at every level including the Production Team, Warehouse Personnel, Administration, Customer Service and Sales Representatives. An Auto OEM Remanufacturing Service Center is a direct extension of the Manufacturers it serves. Accountability and professionalism ultimately distinguish its success.